Top Quality Leather Radio Strap, Made of Thick Durable Premium Leather, We buy the best grade In the industry. Strap comes Fully Customizable, Anti-Sway strap, and Anti sway swivel D ring. "no more jerry rigging your antisway", there is a place for it now!
We have Various Stamps, Maltese Cross, Star of Life, Irons, Christian Crosses, Shamrocks, Spreaders, E.G.A, etc. Just place your Request in the COMMENTS AT CHECKOUT. Remember that straps may have limited Space due to size of strap, and Space for stamping is super limited on front due to loops buckles etc!
Measure with tape measure across body (FRONT AND BACK), from shoulder it will sit on, to point where you wish it to rest on hip. if you want it where the holster sits more towards thigh level, just add 5 inches to length. select appropriate length in inches below. Avg person measures around 56-66″ YOUR MEASUREMENT WILL BE THE MIDDLE HOLE ON STRAP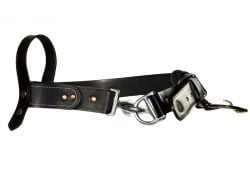 The Axe Belt, Truckmans Belt, what ever you like to call it, Leatherhead...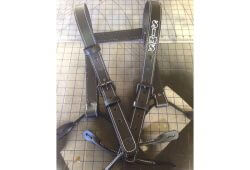 Our Custom Suspenders, available in 3 construction styles. H back, Cross Ring back,...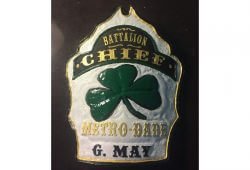 Yes, We make Custom Shields! In Fact it was the beginning of Leatherhead...