The Valor Series is the latest in Super Vac PPV innovations. Featuring a patent-pending frame design that is simple and intuitive to position on the fire ground, the Valor series is engineered to ease the toughest ventilation challenges. The full-roll cage frame features a tough, tubular aluminum frame that is 15% lighter than steel frames, and the frame's 7-point tilt frame provides positive/negative angles and allows for fan placement on stairs.
Specifications:
Available Sizes: 18" and 20"
Weight: 80-92 lbs., depending on motor
Available Motors: Single speed, hazard location, variable speed and battery powered
AMCA Licensed Output: 6,378-13,788 cfm, depending on motor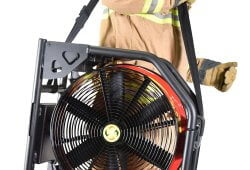 The carry strap allows you to carry your Super Vac battery fan around...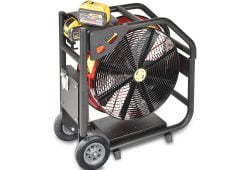 Never in firefighter history has one battery fan worked together with your department's...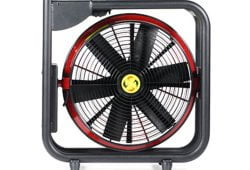 Compact. Lightweight. And reliable. Introducing the all-new Super Vac 16" variable-speed battery fan....