Department: FairLawn (NJ) Rescue
Location: 8-01Fair Lawn Ave., Fair Lawn, New Jersey 07410
Fire Chief: ChrisHolts
Delivery date: Sept.2017
Apparatus Description  Rescue 1 20' Walk-Around w/Upper Storage,Spartan Gladiator ELFD, 20" Raised Roof
ApparatusManufacturer: Rescue1®
Apparatus Type: 20' Walk-Aroundw/Upper Storage Heavy Rescue Unit
Cab/ChassisMake/Model: Spartan Gladiator ELFD/20" Raised Roof Chassis
Engine Make Model andHorsepower: Cummins ISL 9L, 450 HP
Rescue Body Length: 20' Walk-Around
Rescue Type: Extreme Duty Walk-Around w/UpperStorage
Salesman: Joe Vasta
Dealer: New Jersey Emergency Vehicles
Dealer Location: 2201Atlantic Ave., Manasquan, New Jersey 08736
Other features:
Fair Lawn Rescue Features:
All extrudedaluminum Extreme Duty 20' Walk-Around Rescue is equipped with a street sideroof access stairway with fuel container storage below to access the upperstorage compartments. Recessed electric awning, 35 kw PTO driven Onangenerator, 9000 lbs portable winch system, absorbent material hopper withelectric/air operated dispenser, (4) high angle tie off eyelets, (4) bottlebreathing air system and a lazy susan (4) hydraulic tool mount are just a fewof the many components on board.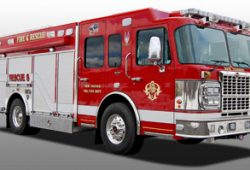 The symbol of excellence... Since 1985, Rescue 1 has been the leading symbol...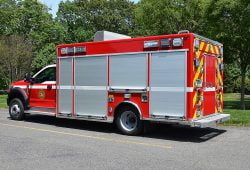 Agawam (MA) Fire Dept. 14'-6" Light Duty Rescue Department: Agawam (MA) Fire Dept....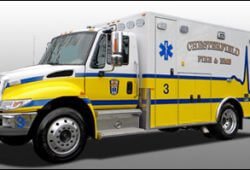 International 4300 Chassis – Durastar International MaxForce DT engine 215-300 hp Allison 2200/3000...