Fort Lee Fire Departments Heavy RescueFeatures:
17'-7" Walk-Around Rescue constructed of 304L StainlessSteel. The curbside lift-up stairway gave access to the upper storage area withfuel container storage below. 15-foot-tall Will-Burt LED light tower wasrecessed into the roof. 35 kw Onan PTO generator, XRT hydraulic power tooperate the extrication tools, 9000 lbs. portable winch system, (4) high angleeyelets, recessed electric awning and long equipment storage in the rearcompartment are just a few of the major built in components.
Department: FortLee (NJ) Volunteer Fire Dept.
Location: 309Main Street, Fort Lee, NJ 07204
Fire Chief: GaryKrautmann
Delivery date: September2017
Apparatus Description  Rescue 1 17'-7" Stainless Steel Walk-AroundHeavy Rescue, Spartan Gladiator LFD, 10" Raised Roof Chassis
ApparatusManufacturer: Rescue1®
Apparatus Type: 17'-7" Walk-Around w/Upper Storage Rescue Body
Cab/ChassisMake/Model: Spartan GladiatorLFD/10" Raised Roof Chassis
Engine Make Model andHorsepower: Cummins ISX 12L 500 HP
Rescue Body Length: 17'-7"
Rescue Type: Extreme Duty Stainless Steel Walk-Aroundw/Upper Storage Rescue
Salesman: JameyPallitto
Dealer: NewJersey Emergency Vehicles
Dealer Location: 2201Atlantic Ave., Manasquan, New Jersey 08736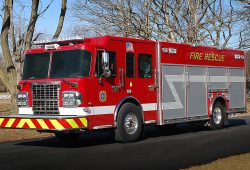 Apparatus Description: Rescue 1 -20' Walk-Around w/Upper Storage, Spartan Metro Star/MFD, 10" Raised...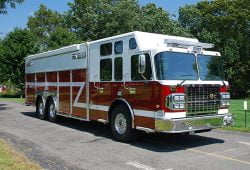 Department: Washington Fire & Hose Co #2 Location: 400 Railroad Street, Danville, PA 17821 Delivery...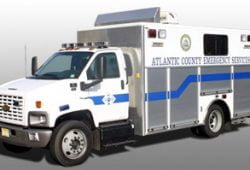 The symbol of excellence... Since 1985, Rescue 1 has been the leading symbol...