For Thorough Moisture Removal of Processed Firefighter Gear
Created specifically for firefighter gear
The Gear Guardian drying cabinet has been engineered specifically to safely and efficiently dry valuable firefighter gear.
Higher Capacity
The large capacity of the FC-6 allows for six hanging racks for jackets and bibs, as well as six boot and glove racks all to be dried simultaneously. The FC-3 allows for three hanging racks and 3 boot and glove racks. And the high 1200 cfm of airflow within the cabinet will process the goods faster. Flat goods can also be dried on the optional adjustable shelf rack.
Quality and Durability
Stainless steel construction provides the highest level of corrosion resistance in the industry. Triple point locking mechanism on door creates a strong and efficient seal. Plus, heavy construction ensures a long life of everyday use.
Simplified Maintenance
Features off-the-shelf controls, electric heating elements (8 or 12kW) and blowers that are available locally to simplify maintenance and save you money.
Value
Using directed airflow instead of mechanical action, this efficient drying cabinet is a great addition to any firehouse. With capacity for three or six complete sets of turnout gear and an approximate 60 minute cycle, this dryer will save you valuable time.
And so much more!  Learn more about the Gear Guardian® Drying Cabinet here.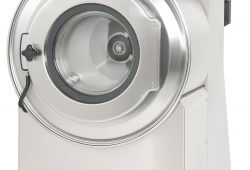 Save Labor The Milnor Model 30015T6X provides multiple ways to save on your...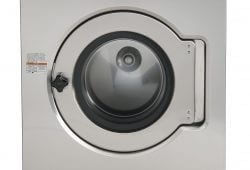 Save Labor The Milnor Model MWT27X5 provides multiple ways to save on your labor...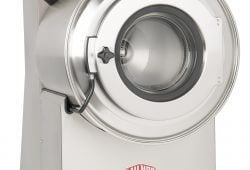 Save Labor The Milnor Model 30022T6X provides multiple ways to save on your...