Quickly retrieve hard sleeves from over the side compartments! This revolutionary new hydraulic system stores the hard sleeves out of the way over the side compartments and at the flip of a switch, lowers them to a convenient height for safe and easy retrieval. The self-contained hydraulic actuators provide a more even, parallel operating motion and are strong enough to allow for the direct mounting of a hard cover and additional hard sleeve (not included).
Available for new and existing apparatus. NFPA complaint lights flash when unit is out of stored position.
Systems Available:
Model HA-HS-6-4: Stores four 6″ hard sleeves
Model HA-HS-6-3: Stores three 6″ hard sleeves
Model HA-HS-6-2: Stores two 6″ hard sleeves
Model HA-HS-5-4: Stores four 5″ hard sleeves
Model HA-HS-5-3: Stores three 5″ hard sleeves
Model HA-HS-5-2: Stores two 5″ hard sleeves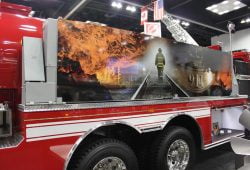 Our popular Portable Tank System with the added strength and reliability of self-contained...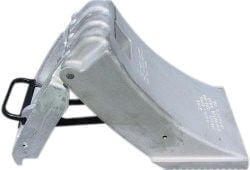 "The Fire Industry's Most Popular Choc" A strong, dependable wheel choc for use...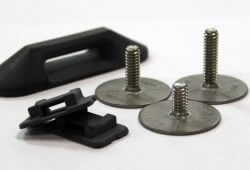 SKU: QM-45100 Categories: Apparatus Components, EZ-MOUNT Fastening System, Fire Tags: adhesive, EZ-MOUNT, QM-45100, Weld Mount, weldmount Learn more!