Portable Scene Lighting with All-Terrain Legs and Protective Case
When we say "scene light," we mean the entire scene with one light!
Ideal for remote area lighting, this Lentry® Lighting System is model 2SPECS plus V-Spec Case C2318 and quick release hardware. The 2200 watt Lentry Portable Generator-Light gives you 1800W of computer-safe power continuously. There remains more than 1400W available, even while running the super bright V-Spec LED light. This efficient LED is bright: 28,000 lumens using just 336 watts.
This standard height model is compact and convenient, stows easily, and offers the height and all-terrain versatility needed for many applications. The pole and legs lift and protect the generator and raise them up over common obstacles and debris. The case holds, protects and preserves the valuable V-Spec LED light head and holds the standard-height pole.
What makes this Lentry Light ideal as portable, remote, area lighting is that the whole system may be carried a short or long distance with two hands: generator-with-legs in one hand and the case, with the LED head and telescoping pole inside, in the other hand. With the legs protecting the generator and the case protecting your LED, your investment is not only ready to go at a moment's notice but is also kept safe, sound, and like new.
ALL-TERRAIN VERSATILITY. Outward curving legs of solid aircraft-grade aluminum lift, level and protect the generator. They allow setup nearly anywhere (in the snow, on a hill, under a bridge, on the riverbank…) and ensure stable, solid operation. With legs, the light system overcomes common obstacles like tall grass, snow, standing water.
SUPER-QUIET HONDA EU2200i GENERATOR. 15 amps and 1800W continuous power. Quiet operation. Lightweight and compact, with top carrying handle. Fuel efficient, with long run times and low emissions. Computer-safe, reliable power generation. Protected with low-oil shut off.
V-SPEC LED LIGHT. This LED is the best available. It's output is bright white, as close to sunlight as you can get with a man-made light! It is instant-on at full intensity and offers long run-times, low operating temperatures, longevity, reliability, low maintenance, and solid state electronics (no bulbs to burn out). It is comprised of 72 LEDs, with 60 LEDs operating as flood lights (work area lighting) and 12 LEDs providing focused spot lighting for distance. The lens and optics are molded together for excellent light quality and wide, uniform, far-reaching illumination. Innovative cooling fins are incorporated right into the super-slim head making it very compact.
STANDARD HEIGHT. This pole length gives you a good balance of height and convenience. Approximately 4 feet tall with legs and pole fully extended this standard height unit gives you the elevation needed to overcome common obstacles while maintaining maximum portability, convenience, and small storage size. The light head and pole are stored in the case or can be left connected to the generator portion of the unit. The light head folds forward, to the side, or back over the top of the generator for compact storage and transport.
V-SPEC CASE C2318. Rugged, waterproof, lifetime warrantied case holds the V-Spec LED head and the standard length pole. The case meets US Military standards for protection against air, water, theft, and impact. Special polyethylene closed-cell foam inside is custom-cut and energy-absorbing; it cushions the LED light head, keeps it from shifting, makes loading easy, and will not disintegrate with sun or water. In all aspects—from the latches and handles to the gasketed enclosure—the case is heavy duty and made to last.
QUICK RELEASE. Hardware on the neck of the telescoping light allows the light head to be connected and disconnected easily from the telescoping pole just by turning a knob.
WARRANTIES. Backed by 1- and 5-year respective warranties on the generator and light head, lifetime warranty on the case, our overall 5-year "No BS" warranty on workmanship and materials, and Lifetime Factory Support.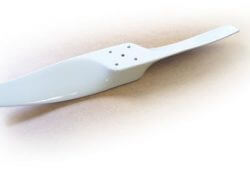 What's great about Ventry propellers? Ventry® Safety Propellers are efficient, durable and safe;...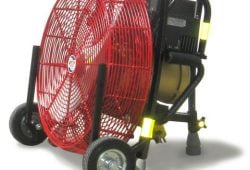 The Ventry® Electric Positive Pressure Fan, for positive pressure attack and ventilation (PPA...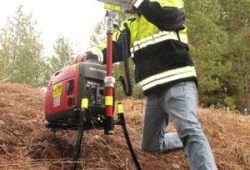 Lentry® Lights are commercial-duty outdoor, gasoline-powered lighting systems with patented, all-terrain legs and...