All Lentry® Light System models feature one or more exceptional light heads. All are exceptionally bright, robust, efficient, made in the USA, and proven to meet the needs of industrial clients with applications in demanding fields like military, fire and rescue, law enforcement, public works and disaster preparedness.
Every aspect of these lights, from the shapes and surfaces of the lamp heads to the knobs, poles, wiring and protective guards, has been optimized for quality, performance, durability and adaptability.
Benefits of the Lights on all Models:
Lentry Lights are flood lights and spot lights in one, so bright and easy to use that they are practical for lighting one person or a whole site.
Lentry Lights, both halogens and LEDs, are very, very bright and efficient. High output using minimal energy is the best value for our customers.
(Do not be misguided by the low wattage of these lights! Note the output (lumens) of each. How bright are they? See photos here.)
All Lentry light heads can rotate all the way around (more than 360 degrees) and bend far forward and back. The versatility of aiming the lights in any direction without repositioning the whole unit greatly speeds deployment and increases control.
All lights operate atop telescoping poles which raise them up and down to a variety of heights (crucial for large scene and distance lighting).
While many users leave the light and pole connected at all times to the rest of the unit, all Lentry light heads may be separated from the pole in a few seconds with the Quick Release installed.
The ability of Lentry Lights to aim in any direction, move up and down, and be redirected without repositioning the whole system greatly increases control, function, and value with relatively little additional cost over conventional close-to-the-ground generator lights and much less expense common generator light towers.
Lentry Light models are available with multiple lights and 2-headed lights which allow one Lentry Light model to do the job of several lights at once.
LEDs and Halogens
Lentry Light Systems include the brightest and most efficient, most rugged industrial LEDs and affordable halogens available. All three LEDs provide simultaneous spot and flood lighting and are so low wattage that the generator can often run additional tools at the same time. Other benefits include instant-on at full intensity; bright, white light (similar to sunlight); long run-times; and low operating temperatures. Their longevity, reliability, low maintenance, and solid state electronics (no bulbs to burn out) make Lentry LED Lighting Systems popular. These commercial duty LEDs must be seen to be believed! Photos of them in action and lumens ratings do not do them justice. Halogen Lentry Lights provide a somewhat softer and warmer (relatively yellow) light compared to LEDs. They are affordable, reliable and boast output comparable to higher-wattage metal halides.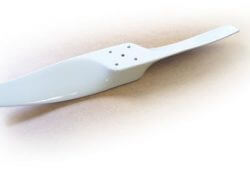 What's great about Ventry propellers? Ventry® Safety Propellers are efficient, durable and safe;...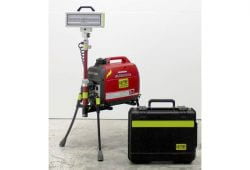 Portable Scene Lighting with All-Terrain Legs and Protective Case When we say "scene...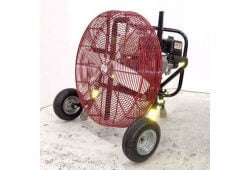 Ventry Ventilation Fan Model 24GX160 (PPV) Gasoline powered Ventry® Fan with the 4.8...