The Super Vac Mountain Mister can convert any fan into a cooling unit for rehabilitation.
Mister Compatibility: Attaches to the outlet guard of any PPV, smoke ejector or blower/exhauster with brackets (Model MM) or industrial magnets (MM-MAG); simply attach a
garden hose or an auxiliary line from any fire apparatus pump panel to provide heat relief
Versatile Design: Can be used by itself; simply hang under an awning or from a shady tree
Water Efficiency: Only consumes 3 gallons of water per hour!
Optional Features: Storz connection and magnetic version for StreamShaper guards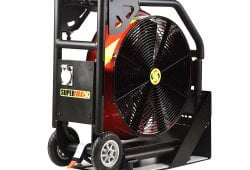 This mount secures your battery fan inside the apparatus. Learn more about this...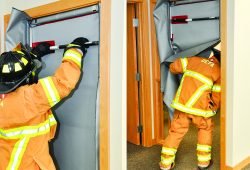 Super Vac's patented SmokeBlockAid helps control oxygen to the fire and contain smoke...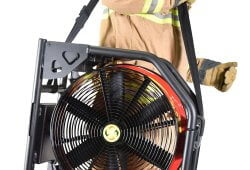 The carry strap allows you to carry your Super Vac battery fan around...