Manually operated, this system injects fluid soaps or decontamination agents in a controlled and regulated manner and only when needed. The injector overcomes supply line pressures to 1250 psi, allowing it to be placed at a distance from the decontamination area, in the cool zone, for maximum safety and control. Users maintain superior control over costly siphon systems. It provides multiple use capability for diverse applications, including personal apparatus, equipment, barrel and building wash-downs. Ideally suited for use with the MITI Portable Decon Wash Systems, it also works with other manufacturers' equipment.
CONSTRUCTION FEATURES
Manually operated, high pressure foot pump w/serrated foot treadle
Two-and-a-half gallon reservoir with quick-remove, gasketed lid
Large fluid reservoir lid for quick, easy filling & level checking
Cushioned feet for stability and prevention of liner punctures
Dripless quick connectors prevent leaks when stored
High pressure 3/8" fluid soap or decontamination agent supply line
In-line brass "T" connector with male/female 3/4" garden hose connectors
Powder coated for superior corrosion resistance, bright orange for visibility
SPECIFICATIONS
SUBJECT TO CHANGE WITHOUT NOTICE
Capacity: 2 gallons (7.57 liters)
Overcome line pressures to 1250 lbs. (878.875kg/sq m)
Supply line hose: 3/8" x 10' (.95cm x 304.8cm)
Weight: 30 lbs (empty) (13.6kgs)
Size: 12" x 12" x 12" (30.5cm x 30.5cm x 30.5cm)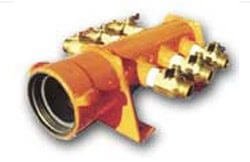 THE MITI HIGH PRESSURE MULTI MANIFOLD  Provides a means of quickly connecting standard...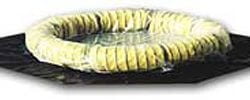 THE MITI PORTABLE DECON WASTE POOL Designed to be used in conjunction with...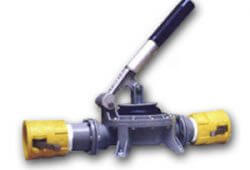 THE MITI PORTABLE HAND PUMP Provides quick emptying of decontamination pools, holding and...