The Straight Shadow is Command Light's most economical solution while maintaining efficient scene lighting.  These units can also be modified to function as a camera or antenna lift.
Highlights:
Full deployment in less than 15 seconds
100% electric (no air or hydraulics required)
An all-weather, virtually maintenance-free tower
Auto park
6-foot umbilical cord
5-year warranty
Specifications:
Weight: 40 lbs.
Number of Heads: 2, 3 or 4
AC Fixtures: LumenForm (Quartz)
DC Fixture: Whelen Pioneer Plus PFN2 (LED)
Total Output: 33,300-44,400 lumens, depending on fixtures
General Options:
Backlighting (ability for bottom row of lights to rotate 180°)
Top-mounted strobe
80" arm
Panel-mounted controls
Wireless controls
Custom colors
AC or DC power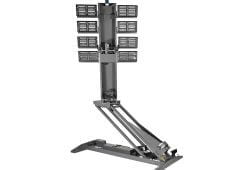 Meet the world's most powerful LED light tower on the market today — the...
The Knight Series is Command Light's mid-size light tower lineup with a reach...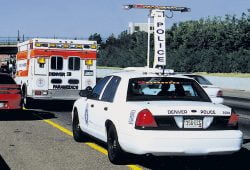 Command Light's Z-Lift improved visibility by elevating your vehicle's warning lights and traffic...