Departments turn to Super Vac's lineup of chain saws to tackle a variety of operations, like removing downed trees and cutting through residential roofing. The SV3 is available in a 16" or 20" bar with either a Full-Wrap Depth Guard for added protection or the Quick Silver Depth Guard for reduced weight and ease of use.
Specifications:
Weight: 20.8 lbs. (16" bar) or 21.6 lbs. (20" bar)
Engine: Makita, 2-stroke, 78.5 cc 5.7 BHP – 4.3 kw
RPM: 12,800
Pitch / Gauge (in): .404 / .050
Fuel Capacity: 25.36 oz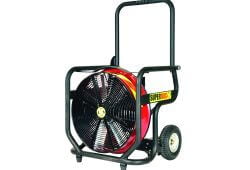 The Valor Series is the latest in Super Vac PPV innovations. Featuring a...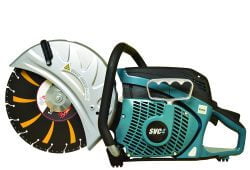 Super Vac supplies departments with the ultimate cutoff saw, the SVC4 Cutoff Saw,...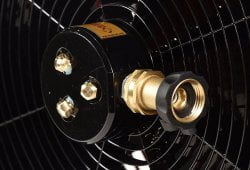 The Super Vac Mountain Mister can convert any fan into a cooling unit...