Super Vac supplies departments with the ultimate cutoff saw, the SVC4 Cutoff Saw, designed specifically for the fire/rescue industry. Featuring a tiger tooth diamond blade, this saw will cut through steel, rebar, concrete and aluminum, as well as residential and commercial roofing. The SVC4 is easy to operate thanks to a spring-assisted starter with primer pump and touch-and-stop, one-lever control.
Specifications:
Weight: 19.6 lbs.
Engine: Makita, 2-stroke, 60.7cc 4.4 HP
RPM: 9,850
Cutting Depth: 5.1"
Fuel Capacity: 23.6 oz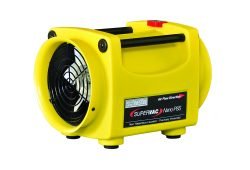 The Nano is the most compact con_ ned space fan on the market....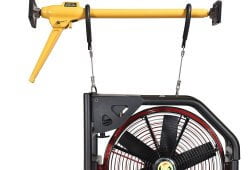 The door bar allows you to hang a Super Vac fan with hangers in any doorway...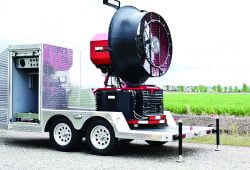 The SVU is the most versatile, large-scale positive pressure ventilator in the industry....