The Super Vac Smoke Ejector provides a versatile ventilation option, available in gas, electric, battery or water turbine. This box-shaped fan pulls smoke from a structure using negative pressure but can be flipped around for positive pressure tactics. Smoke ejectors are most effective when working with natural airflow and not against Mother Nature.
Specifications:
Electric Smoke Ejectors

Available Sizes: 12", 16", 20" and 24"
Motors: Single speed, hazardous location, variable speed or battery powered
Weight: 40-115 lbs., depending on motor
Output: 3,700-11,800 cfm, depending on motor

Gas Smoke Ejectors

Available Size: 16"
Engine: Honda GX
Weight: 55 lbs.
Output: 9,250 cfm

Water Turbine Smoke Ejectors

Available Size: 12", 16", 20" and 24"
Power: 5.5 Hp water turbine with 100-250 psi
Weight: 50-123 lbs., depending on size
Output: 4,300-9,500 cfm, depending on size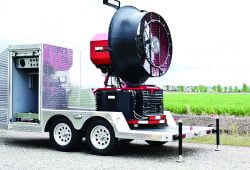 The SVU is the most versatile, large-scale positive pressure ventilator in the industry....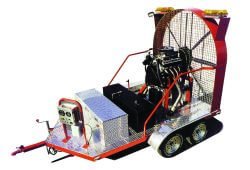 The BFF is the largest mobile emergency ventilation fan on the market with...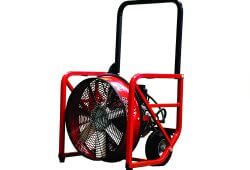 Featuring a durable steel-frame, roll-cage design with 4-position tilt, the Super Vac 7-Series...