Super Vac's patented SmokeBlockAid helps control oxygen to the fire and contain smoke to a single room to minimize property damage. The SmokeBlockAid sets up in seconds and requires no manpower to maintain door control. Perfect for uni-directional ventilations scenarios, the SmokeBlockAid forces airflow into the room at a lower volume rate, drastically minimizing conditions that lead to flashover, while allowing personnel and charged hose lines to pass through the doorway while the SmokeBlockAid is deployed.
Specifications:
Standard Model: 27"-43" span (width) x 75" tall
XL Model: 36"-56" wide (width) x 75" tall
Material: Replaceable silicone impregnated fi berglass, rated up to 500° F for extended period of time. Fabric maintains integrity up to 1,100° F
Ratchet: QuickAction with screw tightening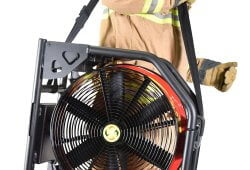 The carry strap allows you to carry your Super Vac battery fan around...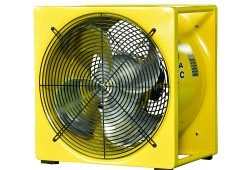 Super Vac's F Series Confined Space Ventilators provide unmatched durability. The entire frame...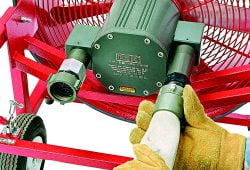 Powered by a water turbine motor, these positive pressure ventilation fans run without...