All Ventry® Ventilation Fans have three outward curving solid aluminum legs which help greatly with firefighting and positive pressure ventilation (PPV).
Legs lock and adjust individually with the turn of a knob, allowing fast, accurate aiming and infinite tilt angles without cribbing!
Legs are easy to use (watch video).
Legs allow aiming of air stream over common obstacles (porches, stairs, snow), into elevated or awkward openings, and even down into holes.
Legs straddle scene debris, clutter, hose, and other obstacles.
Legs stand solid on uneven terrain like landscaping, hills, sand, snow, mud, and stairs.
Legs allow ppv fan placement off the main path, off to the side, safely out of the way of crew and equipment.
Legs prevent the fan from sucking up and plugging or ejecting debris into the air stream.
Legs increase CFM by getting the propeller off the ground so it's not trying to pull air out of the dirt!
Legs raise the fan within easy, natural reach of the operator.
Legs are asymmetrical, engineered to balance the forces of the engine and propeller evenly, without walking or rotating.
Legs contribute to overall geometry of air stream parallel to the ground for better ventilation.
Legs raise the fan enough that the total tilt angle needed to aim is reduced along with the possibility of engaging the low-oil shut off.
Legs are engineered for safety and strength, so are robust without being bulky.
Legs retract for easy transport and small storage size.
Legs make maintenance easier for the mechanic.
Legs should always be extended when in use, for longevity and performance!
Ventry Fans have always been all-terrain, standing solidly on uneven ground to overcome obstacles and aim exactly where you need, regardless of spring puddles, summer grass, fall leaves or winter snow.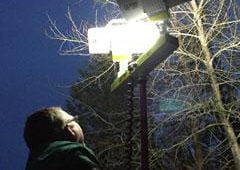 All Lentry® Light System models feature one or more exceptional light heads. All...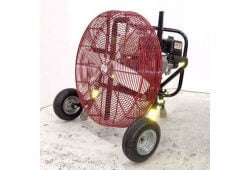 Ventry Ventilation Fan Model 24GX160 (PPV) Gasoline powered Ventry® Fan with the 4.8...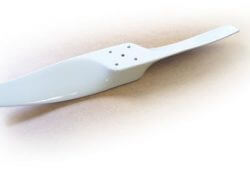 What's great about Ventry propellers? Ventry® Safety Propellers are efficient, durable and safe;...