Ventry Ventilation Fan Model 24GX160 (PPV)

Gasoline powered Ventry® Fan with the 4.8 hp/24-inch propeller and Honda GX160 engine. Like all models, this one includes all-terrain legs, an open-flow guard, and a Ventry Safety Propeller.
This model is one of our most popular for positive pressure ventilation (PPV) by fire fighters. This is our engineer's favorite model, with a great balance of horsepower, weight, and output.
ALL-TERRAIN VERSATILITY. The three legs on this fan give it three-point stability, unlimited tilt/aiming and fast deployment. No matter the terrain or obstacles, the outward curving legs provide a rock-solid footprint and truly stand-alone operation. Legs allow the fan to perform well in any terrain, any season, any scene. You don't have to rake leaves away before using a Ventry Fan in the autumn, or shovel snow in the winter. Ventry Fans set up wherever you need, without hassle, cribbing or hazards.
VENTRY SAFETY PROPELLER. Two-blade, aircraft style, state-of-the-art propeller, engineered specifically for the 4.8 hp motor. Provides high CFM, longevity, and fail-safe performance. The propeller contributes to the ability of Ventry Fans to be placed far back from the target, far out of the way of firefighters and victims.
CLEARANCE. With nearly 14 inches between propeller and the ground, raising the fans ensures no intake of foreign matter so debris won't be picked up or plug the fan. Always extend the legs on your Ventry Fan when in use, even if it's only 6 inches, for maximum safety and performance!
FREE-FLOW GUARD. Maximum air supply to the propeller through the un-shrouded, double reinforced wire guard increases air volume (CFM) and decreases noise. See our video in which you witness a drop in noise and an increase in air as a solid shroud is removed from a Ventry Fan.
DUAL SIDE HANDLES provide an easy, fast way for one or two people to lift and carry the fan.
LONG DISTANCE VENTILATION. Forward sweeping propeller tips produce narrow, consistent air stream for placement far from the target (8-15 ft is ideal). Fan is well out of the way of crew and equipment and allows safer and more effective ventilation.
GX160 HONDA ENGINE is a heavy-duty motor featuring cast iron bores, low-oil shut off protection, an on/off switch separate from the throttle, and a fuel shut-off valve.
WARRANTIES. Enjoy a 3-year warranty on the Honda motor, Lifetime Factory Support, and our company's 5-year "No BS" warranty on workmanship and materials.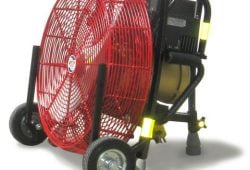 The Ventry® Electric Positive Pressure Fan, for positive pressure attack and ventilation (PPA...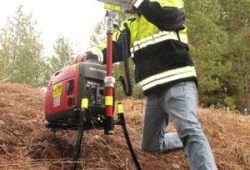 Lentry® Lights are commercial-duty outdoor, gasoline-powered lighting systems with patented, all-terrain legs and...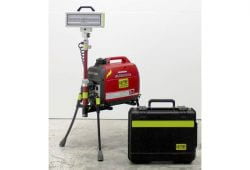 Portable Scene Lighting with All-Terrain Legs and Protective Case When we say "scene...