What's great about Ventry propellers?
Ventry® Safety Propellers are efficient, durable and safe; they are a a significant factor in many of the benefits of Ventry® Fans for which these props are manufactured. The following highlights explain why every fire department should have fans with Ventry Safety Propellers.
Ventry Safety Propellers are Safe (hence the name)
As firefighters, we know that things can and often do go wrong on scene. Our fans are engineered to perform well when things go right and to be safe when things go wrong. The most crucial element of any fan in regard to safety is its prop. The unique Kevlar-fiberglass-wood composition of Ventry Propellers makes them durable and accepting of a tremendous amount of use and abuse. They last a long time, especially if users remember to extend the legs on their fan when in use. They are also — and this is important — designed for controlled disintegration, when safety warrants, without the release of high energy projectiles!
Safety Demonstration Video
To demonstrate that crucial point, we made a 1-minute video in which James Neils (a firefighter for over 20 years, our CEO, and the engineer who designed the fans and their propellers) stands in the debris path while a Ventry PPV Fan is stabbed with a pike pole. Please note that for this video, before we could push a pike pole past the guard, we had to bypass the first safety feature and create a large hole in the fan's highly-reinforced wire cage.
High CFM and Low Weight
Ventry Fans have dual-blade props which utilize the fundamentals of aerodynamics and state-of-the-art proprietary technology. We engineer each propeller specifically for each fan motor, utilizing every bit of horsepower and maximizing the power curve for highest air volume. (Not all 24-inch propellers are the same; not all 20-inch propellers are the same. Each prop is designed for the specific motor of the Ventry Fan on which it will be used.) As a result, Ventry Fans are frequently tested side-by-side and face-to-face with higher-horsepower fans and are chosen again and again after revealing bigger, heavier fans to be unnecessary.
Less Noise and Low Emissions
Other benefits of propeller efficiency (besides high CFM) are significant reductions in noise and carbon monoxide (CO). Moving more air using less horsepower saves you: bulk, weight, expense, noise (see above) and exposure to carbon monoxide. Do not fall for the "more is better" fallacy of multiple-blade props and horsepower. The more blades a propeller has, the more they stir the air rather than push it, wasting energy in the form of noise. This is called "form drag" or "eddy making drag" and is due to multiple tips and greater surface area.
Unbeatable Stability
The propellers' composition contributes to the overall stability of every Ventry Fan. Manufactured in-house by Ventry Solutions, Inc., Ventry Safety Propellers are composites of Kevlar® and fiberglass with a wooden core. The wooden core makes the propellers naturally vibration dampening and is, therefore, one of several reasons why Ventry Fans are known to stay put and not walk! (Of course, the outward curving legs are the main reason Ventry Fans are so stable and so hard to tip over.)
Placement of Fan Farther Back
The advanced curvature of the prop (forward sweeping tips) creates a tight, uniform air cone. This high-quality, consistent air cone (as opposed to erratic with many box/ground fans) helps with aiming and allows the fan to be placed farther away from the target. The narrow air cone pushes air directly at the target instead of around it in a wide circle.  Placement of the fan farther back from its target is crucial for keeping the fan out of the way and one of the major advantages of Ventry Fans over other brands. Firefighters should never have to crawl over the top of a fan while they are using it!
Longevity/Durability
Always extend the fan's legs when in use, and its propeller will last decades. If something goes wrong though and safety requires, as one of our customers described, "the propeller will turn to dust so you do not!"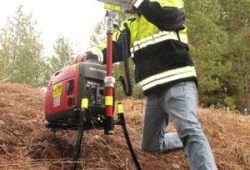 Lentry® Lights are commercial-duty outdoor, gasoline-powered lighting systems with patented, all-terrain legs and...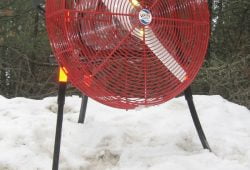 All Ventry® Ventilation Fans have three outward curving solid aluminum legs which help...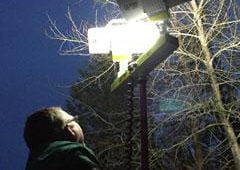 All Lentry® Light System models feature one or more exceptional light heads. All...