Improve the ride and increase re-sale value of your class 6 or 7 truck with the Reyco Granning model 79AR air ride drive axle suspension. Available as an OEM installation or as an optional conversion kit to convert trucks with a Reyco Granning 79KB to an air suspension with a minimal amount of work. This suspension incorporates the successful and proven steel spring suspension design features of the Reyco Granning 79KB to deliver a durable and customizable air ride suspension.
APPLICATION
Designed for Class 6 and 7 vocational trucks with single drive axles.
The 79AR can be adapted to any truck with standard-dimension frame.
GAWR (gross axle weight ratings) of 17,000 lb (7.7 t) to 23,000 lb (10.4 t)
FEATURES
A special conversion kit lets dealers convert trucks with an existing 79KB to an air suspension with a very moderate amount of work.
The ability to re-use existing components saves money and increases the resale value of used truck Inventories.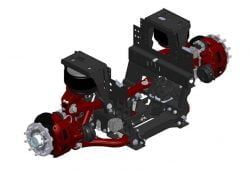 IFS 20K and 24K Specify IFS instead of solid axle and leaf spring...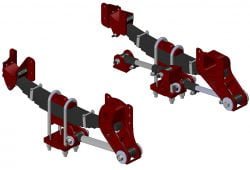 The Reyco Granning model 102CC steel spring drive axle suspension has a proven...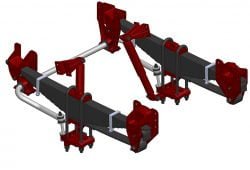 The Reyco Granning model 79KB was designed as a single steel spring drive...