The Reyco Granning model 102 steel spring drive axle suspension has a proven track record as a rugged, reliable truck suspension. Rugged enough in fact, to see duty on combat military vehicles as well. This suspension is offered on many Class 7 & 8 vocational trucks
SPECIFICATIONS
Single axle, 19,000 lb (8.6 t) to 28,000 lb (12.7 t) load capacity
Tandem axle, 38,000 lb (17.2 t) to 46,000 lb (20.8 t) load capacity
9.75" (248 mm) to 11" (279 mm) mounting height
50" (1270 mm), 52" (1321 mm), and 60" (1524 mm) axle spread
104" (2642 mm) frame rail length
FEATURES
Cast, adjustable torque arms and rubber bushings allow the suspension to absorb "diagonal walk" without transmitting stress to the vehicle
Cast hangers and axle seats
Springs designed to create a cushined ride, loaded or empty
Axle seats are available for all popular drive and tag axles in a wide range of sizes and pinion angles.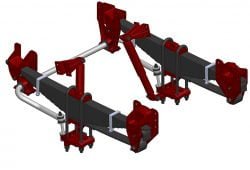 The Reyco Granning model 79KB was designed as a single steel spring drive...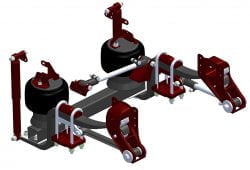 The Reyco Granning model 102 air ride drive axle suspension is a rugged...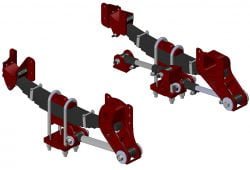 The Reyco Granning model 102CC steel spring drive axle suspension has a proven...