The Reyco Granning model 102AR-HD air ride drive axle suspension was created to fill the unique needs of heavy-duty fire and rescue vehicle users:
Higher carrying capacity, up to 35,000 lb (15.9 t) GAWR
More roll resistance from a massive sway bar
Increased durability from the multi-leaf spring pack
Starting with components from the time-proven standard 102AR, Reyco Granning engineers worked with some of the nation's top fire-fighters to turn an already rugged suspension into the HD version.
SPECIFICATIONS
Custom mounting heights
Single Axle, 24,000 lb (10.9 t) to 35,000 lb (15.9 t) load capacity
Tandem Axle, 48,000 lb (21.8 t) to 70,000 lb (31.8 t) load capacity
Axle vertical travel 3″ (76.2 mm) up, 2.5″ (63.5 mm) down
54″ (1372 mm) axle spacing
FEATURES
Increased durability from the multi-leaf spring pack
2″ (50.8 mm) diameter sway bar provides additional roll stiffness
Outboard mounted shock absorbers tuned for maximum vehicle stability
Close tolerance machined castings and high strength u-bolts create durable, trouble-free axle attachment
Cast adjustable torque arms for ease of alignment (up to 31k GAWR).
New extreme duty rigid torque arm with urethane eccentric bushing required above 31k GAWR (available for all GAWR's)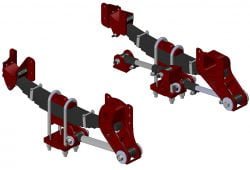 The Reyco Granning model 102CC steel spring drive axle suspension has a proven...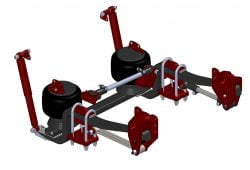 Improve the ride and increase re-sale value of your class 6 or 7...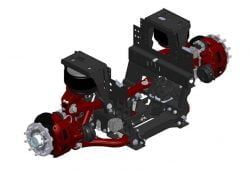 IFS 20K and 24K Specify IFS instead of solid axle and leaf spring...