The Reyco Granning model 79KB was designed as a single steel spring drive axle spring suspension that combines high weight capacity with excellent ride characteristics. Ride quality is enhanced by the long spring length while rugged cast components can carry load ratings up to 35,000 lb (15.9 t) With a wide range of options, the 79KB is one of the most customizable suspensions available for Class 5 through Class 8 trucks and tractors. It's an ideal choice for everything from city delivery to extreme-duty fire and rescue.
Auxiliary helper leaf available
Cast spring hanger brackets
Adjustable torque arms for easy alignment
Slipper type springs eliminate spring eyes and shackles
Multi-leaf and parabolic taper leaf springs
Optional stabilizer bar
Optional shock absorber
Optional jounce stop
SPECIFICATIONS
15,000 lb (6.8 t) to 35,000 lb (15.9 t) load capacity
Fits inside 60" (1524.0 mm) frame length
6.5" (165.1 mm) to 12" (304.8 mm) ride heights
Single axle application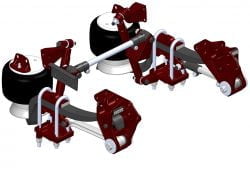 The Reyco Granning model 240AR air ride drive axle suspension is lightweight and...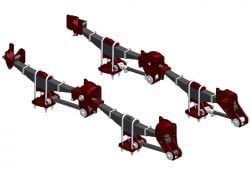 The Reyco Granning model 102 steel spring drive axle suspension has a proven...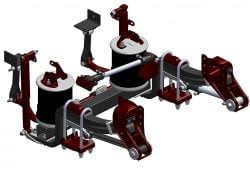 The Reyco Granning model 102AR-HD air ride drive axle suspension was created to...