Standard features of the Extreme Medicine®/Rescue Knife:
Laser cut ice hardened corrosion free blade steel 440A in steel finish
• MIL spec – 40°C + 80°C operating temperatures
• Laser cut half serrated cutting edge
• Window puncher/glass breaker
• Maintenance free ergonomically designed all weather handle grip
• Aluminum handle with resin inlay
• Oversized thumb stud
• Oxygen wrench hole on blade
• Internal blade release mechanism
• Pocket clip
• Each blade individually serial numbered for 100% traceability
• Design to cut patient's clothing w/o cutting the patient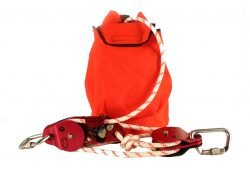 The Skedco 4:1 Rescue Kit utilizes the Rescue Hauler, a double pulley, two...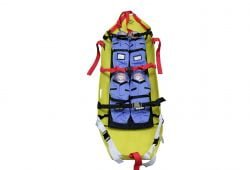 The Kiddie Litter was developed for emergency evacuation of babies from the nursery...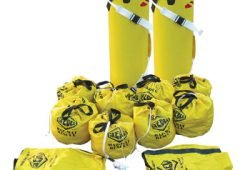 Included are 4 HMD Skeds rolled and stored in rapid deployment bags. Also...