This complete decon shower system includes everything you need to set up a decon system anywhere water is available. Shower system includes PVC shower with four shower heads, hose with handheld sprayer, a 4' x 8' x1' steel frame decon pool and carry bag.
This shower system is lightweight, collapsible, and can be assembled quickly, making it the perfect solution for an easy decon shower system. Elevation grids and shower curtains are available.
PVC construction with quick connect cam lock fittings
4 shower nozzles plus separate hand held spray nozzle
4.2 gpm nozzles at 40 psi
Inlet connection, garden hose threads
Set up is quick and easy
Vinyl enclosure for privacy (optional)
Elevation grids (optional)
Assembled dimensions, 42" x 36" x 84"
Securing straps included
Storage bags included
Shower w/curtain weight, 70 lbs.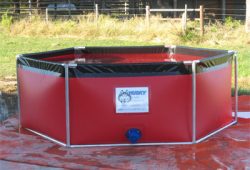 Husky® Portable Containment's Aluminum QUick Assemble AQUA Tank gives you the best of...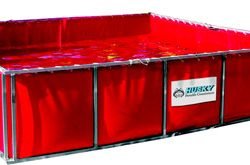 Husky's® port-a-tank liners are designed so there are no bulky corners or sagging...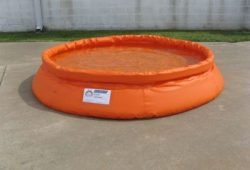 Husky® Decontamination Pools are easy to use, portable and built to last. All...